Field Notes
January - April 2017
Rainfall patterns continue to change in Tsavo. This year during January and February, it was hot and rained in many areas with green vegetation and full waterholes. While in other areas, there was little rain. March was also hot, relatively dry, and several waterholes contained wet mud. In mid-April, the temperature was much cooler and windy with showers in some areas. Large flocks of storks, egrets, herons, Carmine bee-eaters and Eurasian Rollers were swooping around groups of elephants in green open grassland areas. As the vegetation dried, many elephants moved east and the flocks of birds followed.
Tsavo elephants often climb hills. During both the wet and dry season, they use zigzag paths to climb up and over the hills. This year many families and young bulls were feeding on the hill slopes. In March (photo left), a family was feeding on shrubs almost to the top of a hill. In April (photo right), an adult female was feeding at the crest of the hill with her two young offspring nearby on the other side of the boulders.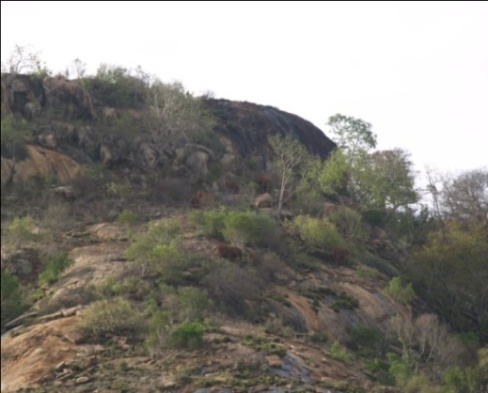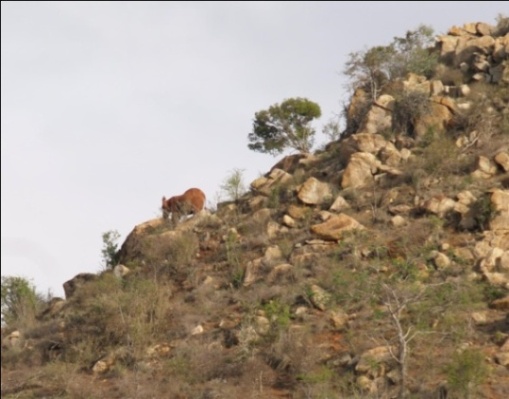 Bulls
Between January and April, many bulls moved back and forth between the southern and northern areas of the bull region: Crux, Wind, Moonlight and Pisces. In February, Solar, photo left (id-year 2010) was with Oort and four unknown young bulls in the northern area. In early-March, he was with Pisces in the southern area, first with a family resting under a Delonix, and then he and Pisces left the family heading east. In mid-March, he was back in the northern area resting in the shade of an Acacia with Moonlight.
In mid-March, Blazer, photo right (id-year 2014) was with Moonlight and Indigo's family at a waterhole in the northern area. In early-April, he had moved to the southern area. First, he was alone in the shade pulling down a strip of Acacia bark, then a young unknown bull joined him. They spent 30 minutes together in the shade feeding on the bark then headed south.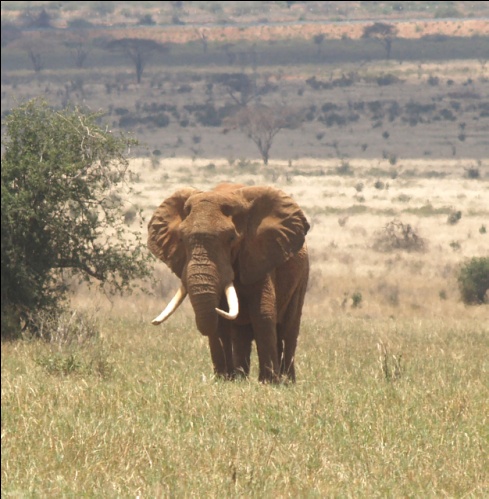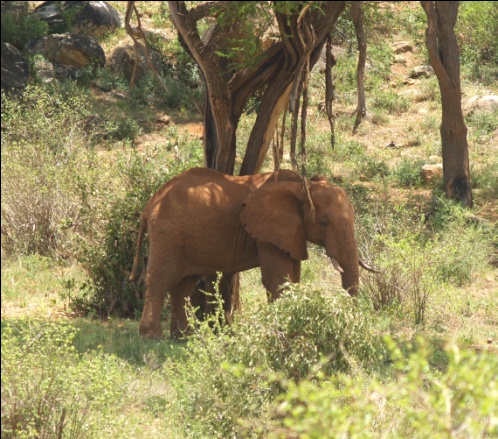 Families
Many families aggregated in green areas surrounding the hills and open grassland areas: One Tusker with Cypris, Miranda with Osiris, Lya, Savanna, Boscia, Medora, and Ambrosia. Two well-known females broke their tusks since the last sightings. Miranda broke half of her long left tusk (see photo field notes May-August 2016). Flora (id-year 1990) broke half of both her long tusks.
C.T. (photo-left) a tuskless female has a distinct crooked tail. When she was identified in 1989, she had two male offspring. Since then she has had one female and two male calves. C.T.'s family is part of the Hill clan but spends half the time near Voi Riverine. In early-April, she was with her young male calf and an unknown female with a newborn. She often associates with Gardenia, One Tusker, Cypris and Joanna's family.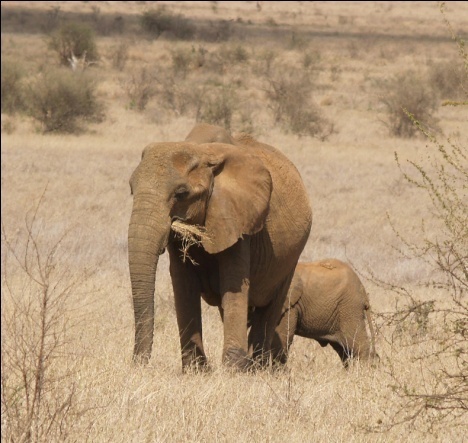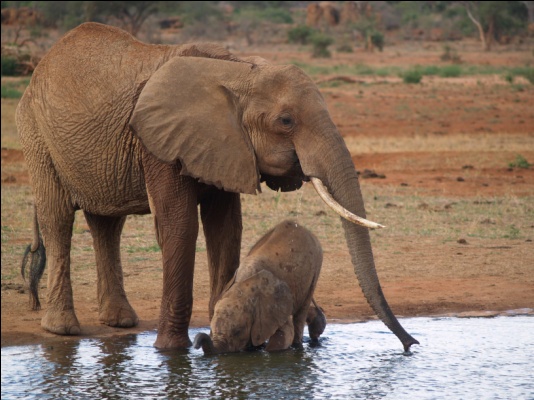 Walnut (photo-right) is a new identified female with a single right tusk. She has many holes and notches in both ears and very long tail hairs. In April, she was with her young male calf drinking from a supplemental waterhole. A short time later, a 15-year old female ran from Voi Riverine trumpeting as she joined Walnut and her calf at the waterhole. Young elephants must learn to use their trunk to drink water. Although Walnut's calf used his trunk to drink several times, he seemed to prefer bending down to use his mouth to drink. This small family of three drank, splashed then headed south to the riverine.