Field Notes
January - April 2019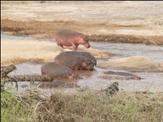 During January and February, there were many storms and in most areas the vegetation was green, but drinking water in natural waterholes was localized. There is, however, drinking water available from supplemental water sources in many areas all year. With the exception of only one storm in early March, the vegetation was dry and most natural waterholes were dry by mid-March. Since there was little rain in March and April, Barn Swallows, Eurasian Rollers, Harriers and other migratory birds left Tsavo in mid-March. In March the Galana River, the only permanent river, was narrow and low in many locations. A group of 13 hippo's were walking along the sand bank and gathering in the river. In late-April Gazelle were digging for tubers at the base of shrubs; a common behavior during the dry season.
Bulls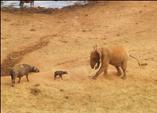 Most of the bulls sighted between January and April were with families and near a water source. There were an equal number of bulls found alone and with other bulls. Bull groups were small in February but in March, they aggregated in groups of 10 to 18 bulls and at one waterhole, there were 56 bulls. Breeze, Swift, Kilo, Nickel and Java all young bulls were with families or with other young bull. In late March, I found Sunray. He appeared to have had a growth spurt since I last saw him. In February, I found a group of 12 bulls at a supplemental water source, taking turns drinking from a pipe. As I was identifying the bulls, a buffalo and her very young female calf approached the waterhole. The mother stopped but the calf continued toward the waterhole. Most of the bulls turned toward the calf and rumbled, but one bull stepped away, trumpeted then charged. The mother was behind the calf as he moved toward the bull. However, even as the bull moved away the calf repeatedly tried to get close to the bull, and even when the bull swung around and faced the calf she was not deterred. Finally, the mother moved between her calf and the bull and ran in the opposite direction from the bulls.
Families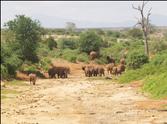 Between January and April, the majority of families were alone or with other families and those families with bulls were sighted at a water source. During January and February many families were found feeding at the base of the hills; several females even with very young calves were half way to the top of a hill. Although Tsavo elephants frequently climb the hills, I am often amazed at their ability to climb up and over the top. In March, many families aggregated in the dry riverbed to dig for water from the water table. In March, a young female of 15 years, picked-up a branch, turned it horizontally and scratched her chest and leg. This is the fourth time I've seen this behavior suggesting tool-use may be common among Tsavo bulls and females. Cassiopeia, a female I've not seen in several years, with her 5-year old calf was sighted twice with other families near Voi River. Known females with offspring born over the last two-three years were all healthy including, Summer, Savanna, Crescent, Batik, Parsley, B2, Peony, Skye, Bauhinia and Poppy.