Field Notes
January - April 2019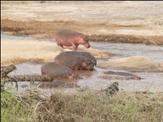 During January and February, there were many storms and in most areas the vegetation was green, but drinking water in natural waterholes was localized. There is, however, drinking water available from supplemental water sources in many areas all year. With the exception of only one storm in early March, the vegetation was dry and most natural waterholes were dry by mid-March. Since there was little rain in March and April, Barn Swallows, Eurasian Rollers, Harriers and other migratory birds left Tsavo in mid-March. In March the Galana River, the only permanent river, was narrow and low in many locations. A group of 13 hippo's were walking along the sand bank and gathering in the river. In late-April Gazelle were digging for tubers at the base of shrubs; a common behavior during the dry season.
Bulls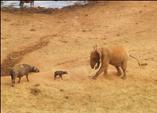 Most of the bulls sighted between January and April were with families and near a water source. There were an equal number of bulls found alone and with other bulls. Bull groups were small in February but in March, they aggregated in groups of 10 to 18 bulls and at one waterhole, there were 56 bulls. Breeze, Swift, Kilo, Nickel and Java all young bulls were with families or with other young bull. In late March, I found Sunray. He appeared to have had a growth spurt since I last saw him. In February, I found a group of 12 bulls at a supplemental water source, taking turns drinking from a pipe. As I was identifying the bulls, a buffalo and her very young female calf approached the waterhole. The mother stopped but the calf continued toward the waterhole. Most of the bulls turned toward the calf and rumbled, but one bull stepped away, trumpeted then charged. The mother was behind the calf as he moved toward the bull. However, even as the bull moved away the calf repeatedly tried to get close to the bull, and even when the bull swung around and faced the calf she was not deterred. Finally, the mother moved between her calf and the bull and ran in the opposite direction from the bulls.
Families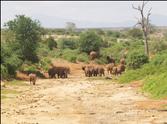 Between January and April, the majority of families were alone or with other families and those families with bulls were sighted at a water source. During January and February many families were found feeding at the base of the hills; several females even with very young calves were half way to the top of a hill. Although Tsavo elephants frequently climb the hills, I am often amazed at their ability to climb up and over the top. In March, many families aggregated in the dry riverbed to dig for water from the water table. In March, a young female of 15 years, picked-up a branch, turned it horizontally and scratched her chest and leg. This is the fourth time I've seen this behavior suggesting tool-use may be common among Tsavo bulls and females. Cassiopeia, a female I've not seen in several years, with her 5-year old calf was sighted twice with other families near Voi River. Known females with offspring born over the last two-three years were all healthy including, Summer, Savanna, Crescent, Batik, Parsley, B2, Peony, Skye, Bauhinia and Poppy.
May - August 2019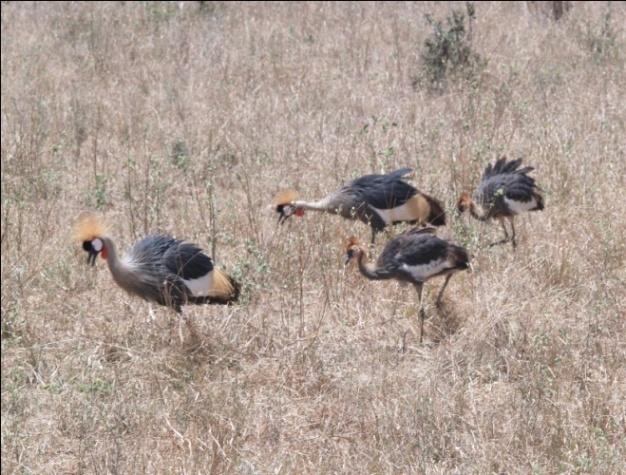 The rains finally started in early May and within two days, the grass had turned green and the shrubs and trees had produced new shoots. It rained throughout May filling most waterholes. In June, the vegetation stayed green, but no rain. By mid July, the winds were strong, the temperature dropped and most of the vegetation was dry again. Then in August, there were several storms creating large patches of green grass. On many occasions, both bulls and families were climbing the hills to feed. In August a bull, 20-24 years old climbed up and over the top of Voi hill (930 meters). Favored plants and moisture from mist attract elephant hill climbers. It is rare to see Crowned Cranes in Tsavo. However, over the past few years, I have seen a pair in the bull area, and this year I found them with three juveniles.
Bulls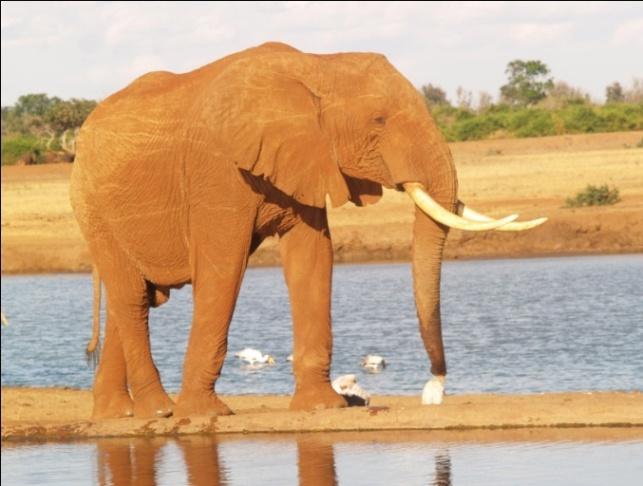 Between May and August known bulls were most often with families (Pewter, Zanzibar and Cedar). I found Wishbone (photo, id-2010) several times in June. In late June, I first found him at a waterhole drinking alone then moved north to feed. Over the next five hours he joined each group of elephants as they headed to the waterhole. He drank and splashed with them, but when they headed east, he travelled west on his own to feed. With each group that came to the waterhole, he repeated the same behavior. On one occasion in the late afternoon, a 30-year old musth bull came to the waterhole while Wishbone was alone drinking. They rumbled to each other, drank together and when the musth bull headed east Wishbone started to follow then changed his mind and diverted to the north once again alone.
Families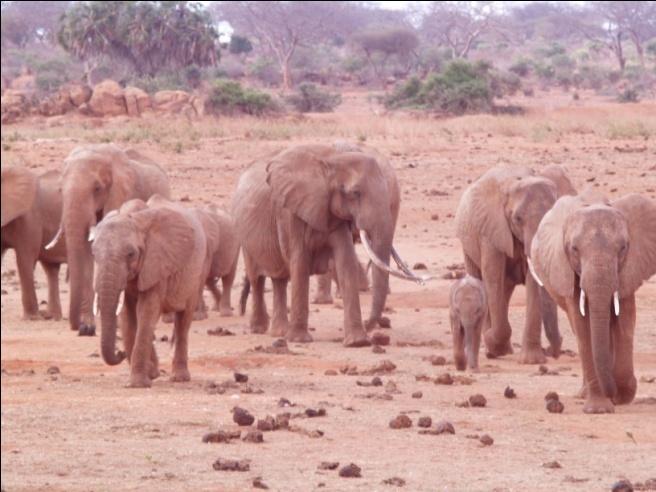 All of the families sighted between May and August were from the Hills Clan. Most of the families were small with four to nine individuals. I found Savanna and Summer together several times with healthy offspring, both now 5-years old. In June, Peony with her 2-year old male offspring, was feeding in a group of eleven individuals including two known bulls, Oort and Quark. Also in June I found Spring with her 18-month old female offspring in a group of nine including Wishbone at a waterhole. In late-July Chestnut, center of photo, (id-2016) and her 6-year old female offspring was with Maple (id-2016) and her 5-year old male offspring in a group of nine individuals, traveling to a waterhole. Both of these females have a unique feature; long and full tail hair, reaching almost to the ground.
September - December 2019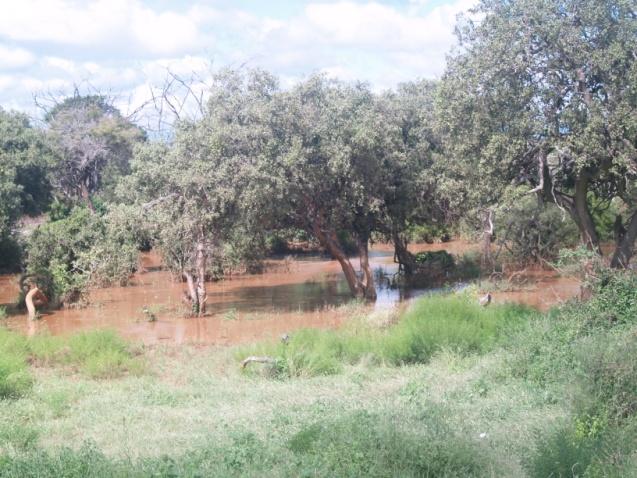 The rains started early this season, 1st October. In many areas, the grass turned green and plants had new shoots within 36 hours. The rains continued all November and December. By mid-November, waterholes were small lakes. Voi River overflowed in many areas creating large swamps. Barn Swallows, Steepe Eagles, Eurasian Rollers and Harriers arrived in mid-November. With the rains, thousands of termites emerged from the soil.
Hundreds of caterpillars, butterflies and dragonflies were everywhere. With the rains, social mammals had time to socialize, including elephants. This year Gazelle and Impala males were often sparring and females and young were leaping in the air while running through the bush.
Bulls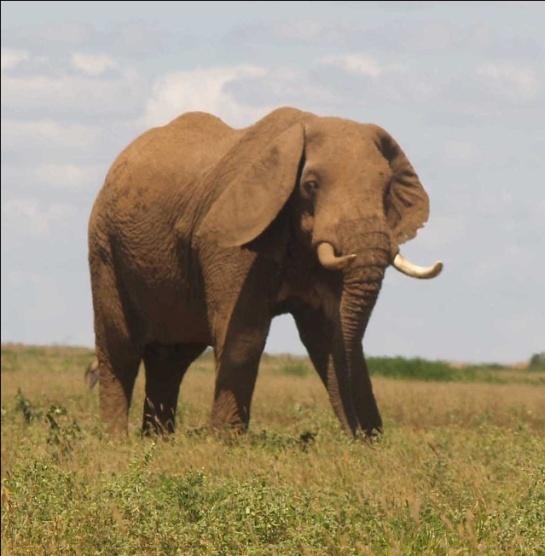 In September before the rains, I watched a bull balance on his hind legs to reach a branch of a Delonix tree. This is a common behavior of bulls but very rare for females. Earlier this year I found Slip, photo left, with 55 other bulls at a waterhole in a bull group. Then when I found him two months later, he had broken off 1/3 of his right tusk. Slip is one of 21 bulls with a broken ear, a distinct feature easy to identity at a distance
Between November and December, most bulls were with other bulls or with a family and rarely alone. In December, I found an aggregation of 86 elephants. While I scanned the group, a large musth bull approached a female and then there was chaos; trumpeting, head shakes and loud ear flaps. Identifying individuals became impossible, so I just watched. By the end of this year, 353 independent bulls have been photographed, named and entered into the Tsavo East Elephant database.
Families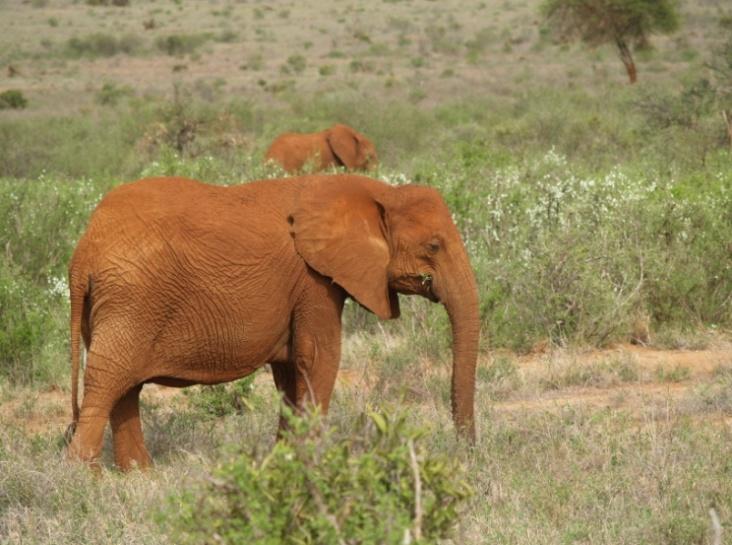 Earlier this year, I found Teak's family: offspring, 8-year old female, 5-year old male and a 20-year old female (most likely her daughter). In October, I found Teak again and this time she was with her new one-month old female offspring. Teak is one of 25 known tuskless females. When I found her again in November, she was with the Crescents family. Sadly, Teak's newborn was missing. Crescent had a 2-3 week old calf with her. The grass was too tall to see features of the newborn except the blacked-tipped hair on his back, head and trunk.
Tamika, photo right, was identified 16-years ago. She has three identified offspring; 2-females and one-male. This year I found her with Tara, one of the original females identified in 1993, also a tuskless female. By the end of this year, 297 adult females have been photographed, named, offspring identified and entered into the Tsavo East Elephant database.