Field Notes
January - April 2021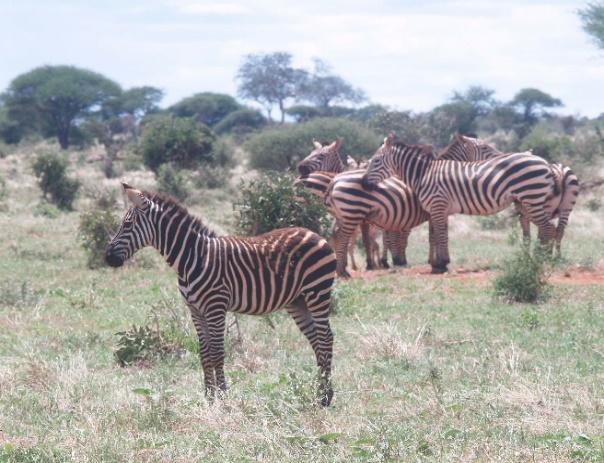 Between January and early April, it was hot and humid. Rains were often heavy during January and February. There was little rain during March. In April it rained again. Large flocks of Red-billed Quelea and small groups of Carmine Bee-eaters were in the bull area during March and April. Most of the migratory birds left the bull area in late March. Although many waterholes were full in the hills area in April most of the vegetation was dry. Many bulls and families moved south to Voi riverine, where the vegetation was green, and Voi River was flowing providing relatively clear water to drink. Other wildlife also aggregated in the green areas near Voi riverine: Zebra, Impala, Hartebeest, Waterbuck, Gazelle and Ostrich. In late April it was windy and the temperature started to drop.
Bulls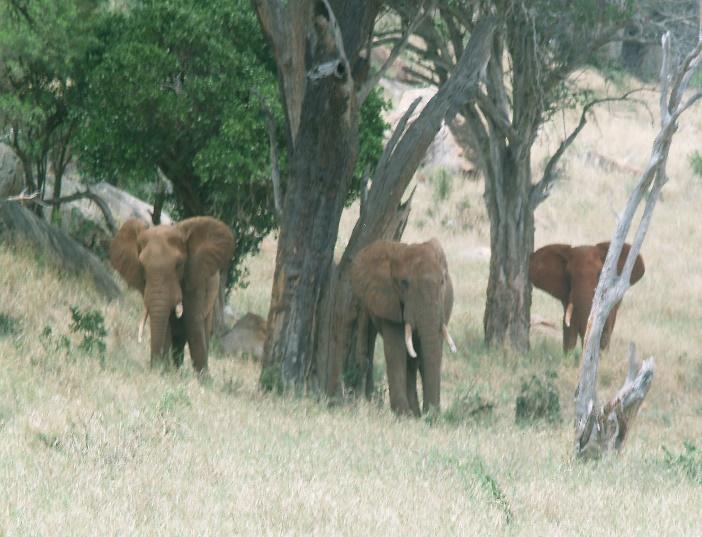 Bulls were with other bulls in small groups, with families or alone between January and April. Creek (id-2008) and Swift (id-2016) newly independent bulls, were with families when I first saw them in the morning. A few hours later they had moved away feeding alone. Crux (id-2010, photo-center) was alone in the morning on the east side of Voi hill feeding. In the afternoon he had moved to the west side of the hill with one other bull, resting in the shade. A few minutes later another bull arrived from the southeast and stopped under a tree to rest. Several new bulls with distinct features moved into the bull area in March and April. In late April, Sun a 45-year-old bull (id-2005) was in the bull area in musth alone feeding on grass. He is often in musth during the rains.
Families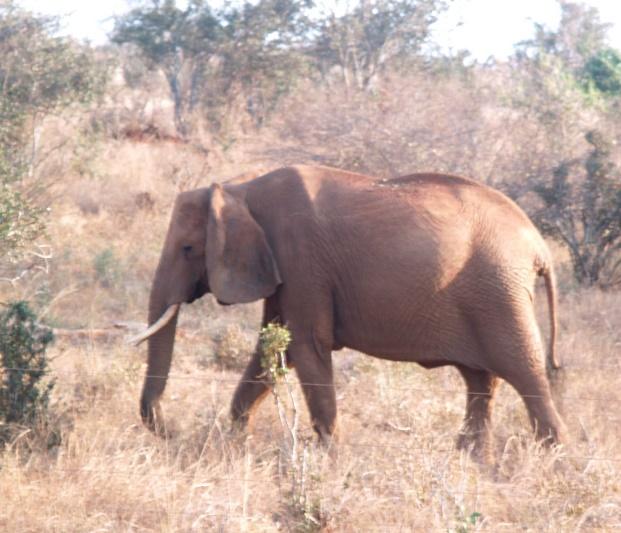 Many families aggregated in the southern hills area between January and April. On many occasions newly independent males were following families through the bush. In January a 45-year-old musth bull was chasing a female while five large bulls looked on. When the female circled back to her family they trumpeted and rumbled as she approached. When the excitement was over, they all went back to feeding. Batik (photo right) was in the hills area several times in March and April. She is one of twenty adult females with a broken ear. She was first photographed and named in 2018 with a four-year-old female calf. When I found her in April her calf was healthy feeding next to her. In early April I found Nola and Nutmeg in a valley between two hills. They both appeared healthy and Nola had a 2-week-old calf with her. The newborn was so small and the grass so tall that I couldn't determine the sex.
May - August 2021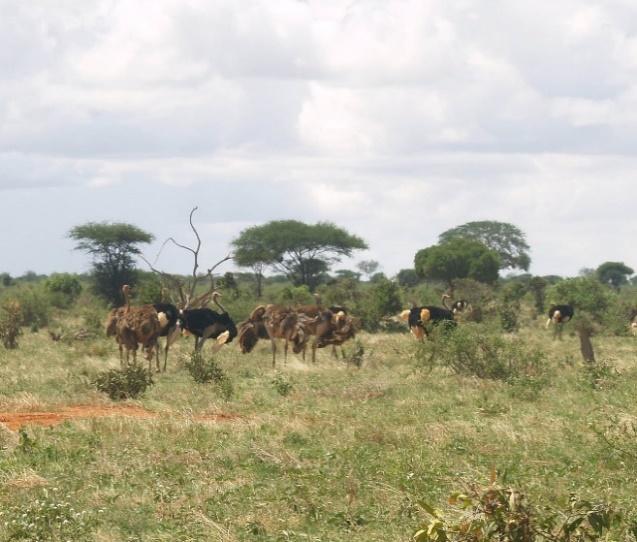 May was warm and there were a few rainy days and most of the plants remained green. June and July were cool months and mostly cloudy with sunshine for only 1-2 hours a day. Delonix, Commiphora and vines lost their leaves first and many shrubs turned yellow. The bare Commiphora then began producing pods, which attracted Parrots, Hornbills and Barbets. Most elephants responded to the cool weather by holding their ears close to their shoulders with an occasional flap. Then in August when the temperature started to rise, they began to flap their ears more often. In mid-August there were heavy rains in some areas. With these rains grasses and some shrubs produced new shoots.
Bulls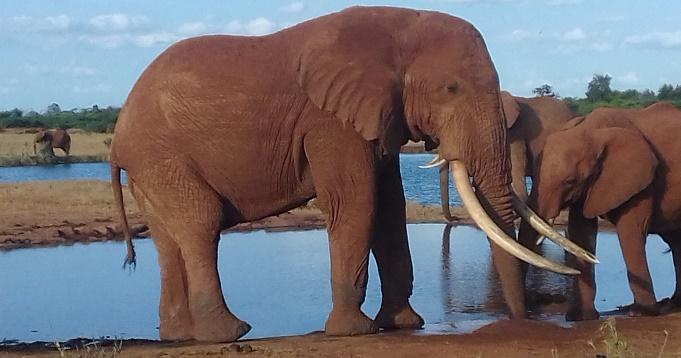 Between May and August most of the bulls were with family groups or alone. Breeze, not yet independent, spent time with three different families: Spring, B2 and Savanna. Sun, 45 years old, was in musth in May. He was in the bull area, alone feeding on grass from a ditch. Sunray (photo-left) moved out of the bull area, his core area, to the east in June. First, he was alone heading toward a family. He joined them for a few minutes then headed south where he joined another family to drink from a supplemental waterhole. When I saw him last year, his tail hairs were long and full, but this year the ends had broken-off. I often use tail features for identification: no hair, long hair, tail twisted or broken.
Families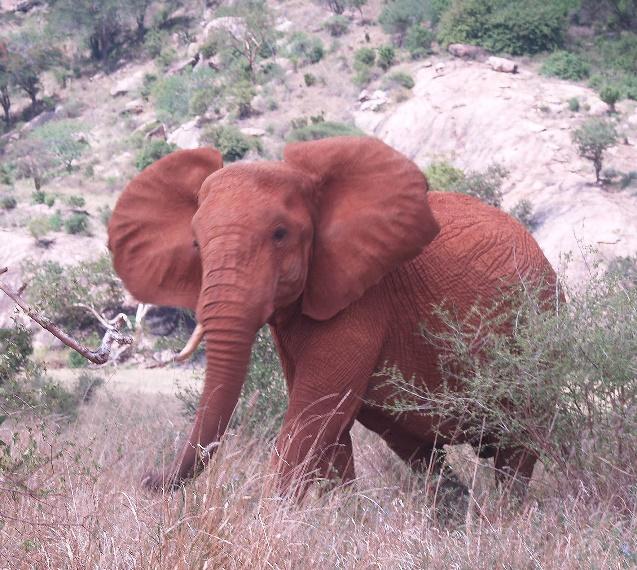 Several families spent time around the Hills in May and June. Two families, with young calves, on separate days climbed the hills to feed on shrubs. Before the rains in August a few more families were half-way to the top of the hills feeding. Many families, Clover-Spice, Azalea-Batik, B2 and Spring move through a valley from the hills in the West to Voi Riverine and back again to the West. Many unknown families used the valley as well. Two new adult females were photographed and named. Pine (photo-right) and Pebble were with a bull (30 years old) and five young males feeding at the base of a hill. Spring and her family were in the valley in early August, then 21 days later when I saw her again, she had a newborn with her. The calf was very small with black hair on her forehead. I saw them several times over the next two weeks and the calf seemed stronger each time I saw her.
September - December 2021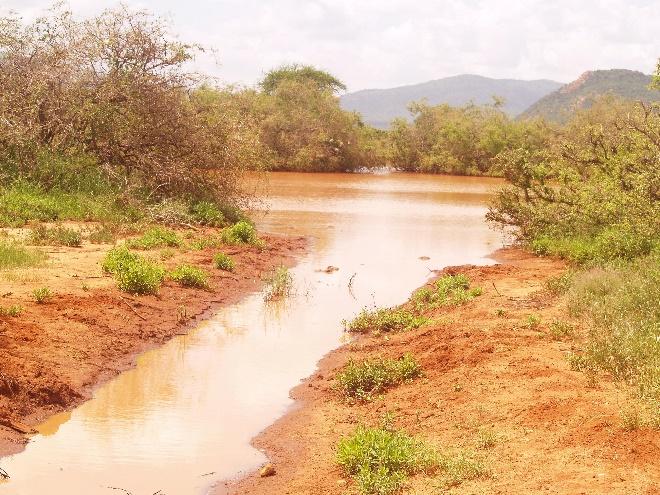 September, October and November were dry in most areas. Most of the wildlife including elephants were drinking from the water pipeline leak pools. During these dry months many Acacia trees were covered with white blossoms.
The rains started 2nd of December and continued all month. Within the second week of December waterholes were overflowing. After a storm, once the sun was shining, hundreds of termites emerged from the soil.
Migratory birds did not arrive in the bull area until late December: Swallows, Carmine Bee-eaters, Eurasian Rollers and Harriers.
In December, most of the elephants moved out of the southern bull area to their wet season range.
Bulls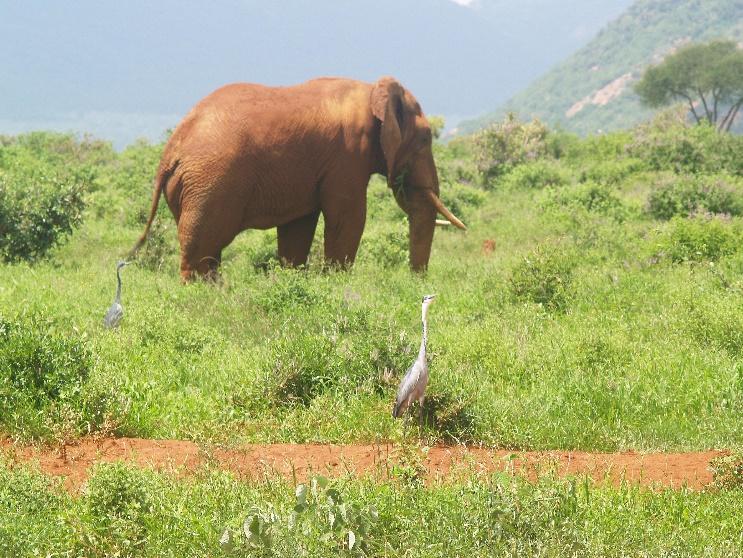 Between September and November bulls were in small bull groups or following families in the southern bull area. Most of the bulls were unknown, young 15-20 years old. One bull was 35 years old, with one left tusk, but was too far away to confirm identity. In late September, a 20-year-old bull climbed almost to the top of Voi hill, feeding on trees and shrubs. Plants on the hills are typically green throughout the dry season.
All the bulls moved out of the southern bull area in November and December. But, in early November, Swift, a newly independent bull, was alone or with other bulls the same age. He left the southern bull area in late November.
Families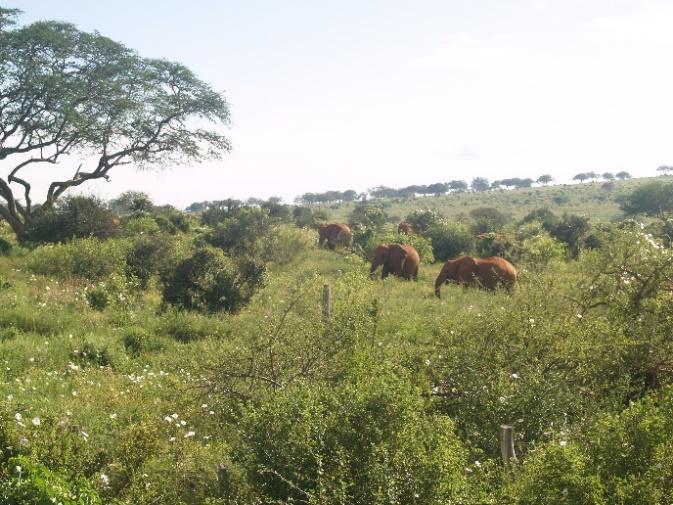 Several well-known families were in their dry season range surrounding the hills from September through November: Spring, Bauhinia, Summer, Savanna, Birch, Batik and Azalea.
In mid-October Batik had a newborn. The calf was very small with black hair on her forehead and back. Spring had a calf in August but it wasn't until mid-October that I could confirm the calf was a male. When I first saw the family of seven individuals (3 adult females) at 06:00, all of them were laying down under a tree, asleep. At first, they looked like large reddish mounds until a calf stood-up and a female flapped an ear. Slowly they all woke-up, started to feed on grasses and headed north. With the rains in December all the known families moved out of their dry season range.